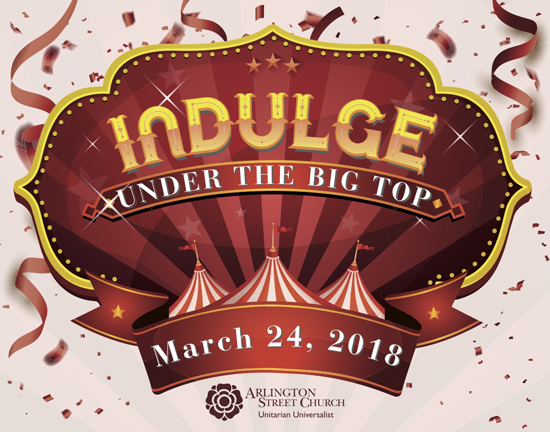 Come be delighted, dazzled, astounded, and amazed. There's a reason it's called
the Greatest Show on Earth! Tickets are $100. Click here to purchase,
This Sunday, February 11th
Arlington Street Circle of Caring

Sundays, February 18th, March 4th, 18th, April 8th, and 22nd ~ 12:30 pm, Carol Smith Room
Are you battling illness, struggling with isolation, caring for someone who is sick or dying, or coping with grief after a loss? Please visit the Circle of Caring and join our community of support, peace, healing, and love. Facilitator, Maureen Peterson calls on her significant personal experience to create a safe space for sharing our stories and supporting one another through the crises of life.
Social Action Table Sunday
Rep. Betty McCollum has introduced legislation to prevent United States tax dollars from underwriting the Israeli military's detention and mistreatment of Palestinian children. Please consider asking your representative to cosponsor this bill (HR 4391). Visit the Social Action Table in the Parish Hall after the service to learn more.
Delegates Needed for General Assembly Meeting
Sign up before February 18th ~ Welcome Table, Parish Hall
Are you planning to attend the Unitarian Universalist Association's General Assembly meeting in Kansas City this June? If your answer is yes (either in person or online), would you consider serving our beloved spiritual community as a GA delegate? The Nominating Committee will be submitting names for five delegates to vote on behalf of Arlington Street Church at our association's annual meeting. For more information, please contact Nominating@ASCBoston.org or see Rachel Corey at the Welcome Table in the Parish Hall after the service for more information before February 18th. Thank you!
Indulge 2018 Planning Meeting

Sunday ~ 12:30 pm, Clarke Room

Join the team as we continue planning and preparing the invitations for mailing. Indulge 2018 is our spring fundraiser scheduled for Saturday, March 24th. Come be a part of helping to make this fun night a reality!
Coffee Hour and Lunch
Sunday ~ Immediately following worship, Parish Hall

Let's all gather downstairs for coffee, soup, sandwiches, and community! Please visit the Arlington Street Cares Table (on your right as you enter the Parish Hall) to sign cards for people who have shared candles of sorrow and joy with us.
We welcome additional volunteers to help with food preparation and, especially, with clean-up. To volunteer, and for more information about joining our team, please stop by the kitchen.
Save the Date
Cris WIlliamson - Barbara Higbie - Teresa Trull The Reunion Tour
Saturday, March 31st ~ 7:00 pm, Sanctuary

Back momentarily from New Zealand where she now makes her home, Teresa Trull joins forces with Barbara Higbie and Cris Williamson for an evening of beloved old and new favorites. This trio of friends, composed of gutsy blues/rock vocal dynamo and songwriter, Teresa Trull; Grammy-nominated multi-instrumentalist and singer, Barbara Higbie; and the iconic singer/songwriter Cris Williamson, bring a mixture of new material and old favorites to Arlington Street as part of a special few East Coast dates. Without a doubt, the very real friendship binding these three musicians brings a powerful mixture guaranteed to delight, inspire, cheer and comfort. Tickets are available at brownpapertickets.com
Announcements
Find out more about these listings.
Arlington Street Circle of Caring

Sundays, February 18th, March 4th and 18th, and April 8th and 22nd ~ 12:30 pm, Carol Smith Room
Buddha's Belly ~ The Buddhist Book Discussion and Arlington Street Zen Center
Tuesday, February 27th~ 6:00 pm, Hunnewell Chapel
New Member Class
Wednesday, February 28th, Spiritual Journey ~ 6:00 pm, Perkins Room
Sunday, March 4th, Meet ASC ~ 12:30 pm, Hunnewell Chapel
Sunday, March 11th, New Member Breakfast/Joining ~ 9:30 am, Hunnewell Chapel
Intersectional Book Group
Monday, March 5th ~ 5:30 - 7:00 pm, Frothingham Library
Arlington Street's Literary Salon, The Wednesdays: Shakespeare
Wednesdays ~ 6:00 pm, The Vendome, 160 Commonwealth Ave.
April 4th ~ ​Measure for Measure; April 18​th ​~ Othello; May 9th ~ ​King Lear; May 23​rd ​~ Macbeth
Mark Your Calendar!
Coming Up at ASCenter
Find out more about these listings.

The Wednesdays Literary Salon: ​Richard Wilbur with Professor Alan Helms and Rev. Kim

Wednesdays, February 14th and 21st, and March 7th ~ 6:00 pm, The Vendome, 160 Commonwealth Ave.
Kundalini Yoga Class
Every Wednesday ~ 6:00 pm, Hunnewell Chapel
ASC Social Group Events!

Friday, February 16th ~ Evening, Loews Cinema, Boston Common

Saturday, March 17th ~ 2:30 pm, Hunnewell Chapel

Social Action
Uncomfortable Conversations about Race
Sunday, February 25th ~ 12:30 pm, Program Room
Care For Mother Earth
Car Donations Made Easy!

Children's Religious Education (CRE)
CRE on Sunday
For today's intergenerational worship, children and youth are invited to sit with their families or join Beth in the balcony to enjoy the service with sermon bingo, coloring, and some of our favorite stuffed animal friends.= Check out CRE to learn more.
Music@ASC
For more information about the following listings, please visit Music@ASC.
Concert by Boston Chamber Music Society

Saturday, March 10th ~ 11:30 am, Sanctuary
Coro Allegro, ​Boston's LGBTQ+ and ​A​llied ​C​lassical ​
C​horus presents We Will Rise

Sunday, March 11th​ ~ ​3:00 pm​ ~ ​Sanders Theatre, Cambridge
Cris WIlliamson - Barbara Higbie - Teresa Trull The Reunion Tour
Saturday, March 31st ~ 7:00 pm, Sanctuary
Join the Arlington Street Choir!
Every Thursday, Starting September 7th ~ 7:00 pm, Clarke Room
Experience the spiritual practice of communal singing! Take just a couple of hours out of your week to create something beautiful, make friends, and add more music to your life! Musicians and non-musicians are welcome—we are a mix of professionals and amateurs.
Unitarian Universalism
If you are new to Unitarian Universalism,
"Voices of a Liberal Faith — Unitarian Universalists"
is a great introduction. Click here to watch
this ten minute video!
Special Considerations for Special Needs
The Arlington Street public transit station re-opened in June 2009 and now provides handicapped access from the transit station to street level via elevators and/or a ramp. A separate part of the MBTA project created a wheelchair ramp leading from street level on Boylston Street to the church office door.
Handicapped access to the Sanctuary on Arlington Street is provided by a ramp on Arlington Street which leads to an entrance to the Sanctuary.
During worship services, and other special events, FM amplification headsets can be provided upon request. Braille hymnals are also available for Sunday services, as well as a large print version of the hymnal and each week's order of service. Please ask an usher for assistance.
Arlington Street Church has a wheelchair accessible restroom immediately adjacent to the Sanctuary.